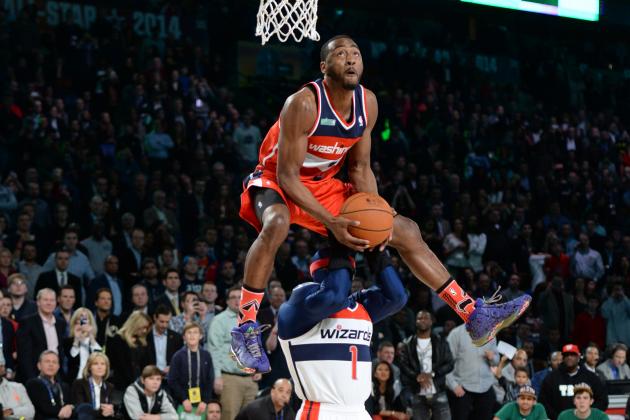 Shooting Heaving Stars (No, not the Shooting Stars, because Team Hardaway made all of their shots from inside half-court but didn't even advance to the finals because they couldn't knock down the half-court heave):
I was expecting a full-fledged jumper from half-court from Kevin Durant, as opposed to his fling from the shoulder. But we'll let Durant off the hook because of the season he's having. In the last month, he's averaging a ho-hum 36-7-7, shooting 55% from the field and 43% on threes. In one game, Durant scored 26 points on 12 shots, meaning that any shot on the court from him was more efficient than a wide-open dunk from Kendrick Perkins.
And he gets his points so easily. While he does ocassionally hold the ball too long, not move without the ball, or take low-percentage fall-away threes, he doesn't look like he's actively trying to put up points. He just scores in so many different ways, that it starts adding up really quickly. His scoring ability also makes his entire team better, as defenders watch Durant instead of focusing on guarding their men, and Durant has become a prolific passer off the pick-and-roll to take advantage of that phenomenon.
Though LeBron has essentially zero chance of winning the MVP because voters are tired of seeing him hoist the trophy, Durant really does deserve it. The Thunder roster with Russell Westbrook injured is really, really shakey and inexperienced, and for them to have the #1 record in the league is unbelievable.
Side-note: OKC is paying Kendrick Perkins an abomidable $18.1 million over the next two seasons... probably $18.1 million too much. There is no reason why Perkins should be getting minutes for an NBA team, much less starting for a championship contender. He had three decent seasons with Boston from 2008 to 2010 (59.6%shooting, 1.7 blocks per game), so the Thunder traded Jeff Green straight upfor him (cut to Thunder fans sobbing), and his career has been a train wreck ever since. He's the most offensively challenged starter in the league (he recently broke a streak of 67 straight single-digit scoring games… oh, and he didn't score in 12 of those outings… 12!), but he doesn't even defend at a particularly high level (only 1.1 blocks per game since being traded, and was manhandled by Marc Gasol in the playoffs last year), so his team essentially plays 4-on-5 with him on the court. He's only 29, but he plays like he's 49. So, to sum up, Durant deserves the MVP.
Getting back to the Shooting Stars, any competition in which you can wear sweapants and win (yes, you, Dominique Wilkins) cannot be taken seriously, so it's long overdue that we eliminate this event. Hey Adam Silver, if All-Star Saturday Night always ends with everyone saying, "This was the worst All-Star Saturday Night ever," then something probably needs to change (and by change, I don't mean adding a freestyle round to the dunk contest). We need a 1-on-1 tournament, and we need it now. During the second half of the All-Star Game, Marv Albert announced that LeBron and Durant planned to go one-on-one towards the end of the game, and I was immediately done flipping the channel to Men's Figure Skating. Why not just institute a simple three- round one-on-one tournament with eight players, running from 7:30 to 9 PM, replacing the Shooting Stars? Mano a mano between LeBron, Durant, Carmelo Anthony, Paul George, James Harden, DeMar Derozan, Kyrie Irving, and Jamal Crawford. You can't tell me with a straight face that you wouldn't cancel dinner with your girlfriend to tune in to that.
Five other theoretical All-Star Weekend improvements:
1) A two-on-two tournament for the best guard-forward combos in the league (Steph Curry and David Lee, Dwyane Wade and Chris Bosh, Tony Parker and Tim Duncan, etc). Give me one reason you wouldn't watch this either.
2) Add a $25,000 reward for winning the Rookie-Sophomore game. This ploy to induce a greater effort wouldn't work in the All-Star Game simply because the players make too much money, but some of these young guys make as little as $1 million a year.
3) Make the All-Star Game more competitive as well. Any cash prize would be too insignificant, but giving the winning conference home court in the Finals like in baseball would be too extreme. If you have an idea, shoot me an email.
4) A pick-up game with Nick "Swaggy P" Young, J.R. Smith, Jordan Crawford, and Jamal Crawford on the same team, and we bet on who takes the most shots (I'd put my money on Swaggy P at 3/2 odds). Even better if we give The Chuckers a smart coach like Gregg Popovich and bet on how long it takes him to lose his mind.
5) Throw Lance Stephenson, Big Baby Davis, and Metta World Peace into a boxing ring and see what happens.
Skills Challenge
I was amused that Giannis Antetokounmpo and Demar Derozan participated, because both of their games are based primarily on athleticism, rather than skills. But with several passing stations removed from the original obstacle course, the emphasis was on speed this year. All in all, the new format was a little worse (the relay idea was cool, but would have beenc ooler if the first player had to alley-oop it to his teammate instead of simply passing him the ball), but this event also needs to be removed to make time for the one-on-one tournament.
Some random facts about Giannis Antetokounmpo (The Greak Freak):
Earlier this season I tried searching for Giannis Antetokounmpo's stats on Bing and misspelled his name so badly that I got no search results… I searched the same spelling into Google and got 21,500 results… there are people in the world who use Bing over Google… The Greak Freak is 6'8'' with a 7'3'' wingspan… he's only 19 years old and HE'S STILL GROWING… The Greek Freak can take one dribble and a euro-step and cover 25 feet… if there's one player in the NBA who could do Michael Jordan's game-winning half-court dunk from Space Jam it would be The Greek Freak
Three Point Shootout
Marco Belinelli became the first winner to miss the rim on four shots. His math skills also need a little work (In the final round, Bradley Beal was mathematically eliminated with eight shots left to go, but Marco didn't realize for another ten seconds).
Slam Dunk Contest
BAD SIGN #1: Whenever the rules for a dunk contest are too complicated to show on the TV screen at once, and have to be explained verbatim instead, they are probably too complicated.
[Watch these videos as you read through my commentary]
25s: Reggie Miller described the freestyle round as "a warmup." BAD SIGN #2: Something described as a warmup is part of the actual contest.
33s: Really nice Paul George reverse-windmill that got completely ignored because the announcers were busy talking about their picks, even though they had the entire half-hour Kendrick Lamar performance to discuss them. Paul George has already clinched the 2013-14 award for "Player who everyone expects to make the leap but then we're still surprised when he actually does" (James Harden won last year and is  taking this season off to celebrate), but I don't think anyone expected him to be this good. He's a little overrated defensively because he's athletic and has ranked top 10 in steals each of the last three seasons, but he still guards the opposing team's best player every night, and offensively, he's taken his scoring to another level. He already seems to grasp the "We're down in the second half on the road, so I need to put my team on my back right now" concept (did LeBron understand that at age 23? I'm not sure).
1m12s: Nice mascot-esque dunk by the East team, culminating with a Terrence Ross one-handed cuff windmill that looked really impressive on the replay.
1m25s: BAD SIGN #3: NBA All-Stars are trying as hard as they can to emulate NBA mascots.
1m32s: Another nice mascot-esque dunk by the East (after which Kenny Smith astutely commented, "Oh, this is nice. That's nice. That's nice. That's nice. That's nice. That's nice. That was nice. That was nice. That was nice. That last one was nice." I'm not joking, watch the video!), but the off-the-shot clock component was really the only move in the whole round that we'd never seen before. The freestyle round is simply too hectic and rushed to actually complete organized dunks (the NBA instituted an individual freestyle round from 1994-1996 and it was a complete disaster for the same reason). But at least the East was relatively organized and looked like they may have at least met with their teammates before the clock started ticking. On the other hand…
20s: Harrison Barnes took a layup… in the dunk contest. I can't believe the announcers didn't jump all over this. This wasn't no, "I tried to throw it down with power, but it slipped out of my hand and rolled in," this was a, "I forgot that I'm in a dunk contest."
33s: Barnes completed the West's first successful dunk, 32 seconds into the round. He threw down a two-handed windmill as mundanely as humanly possible, sparking the insightful Kenny Smith comment, "Okay, two hands."
35-42s: Why is everyone just standing around doing nothing? Are the dunkers being nice and giving Kenny Smith a few seconds to repeat himself ten times?
43s: Our first legit dunk of the night, as Ben McLemore loses the ball in mid-air and still manages to throw it down lefty.
58s: Barnes goes in for a plain, old windmill, and nobody (not the crowd, not the cameraman, not even the announcers) notices, then takes five seconds to retrieve his ball that's blocking his teammates' path. He was just a step slow all night. It took him about 30 seconds to realize that he was in a dunk contest and not a layup contest, and it only took him 60 seconds to realize that this was a get-your-own-rebound kind of thing.  
1m6s: Lillard put down what was probably the most difficult dunk of the night, just ten seconds after Reggie Miller insisted that he couldn't do it. A between-the-legs off two feet is much, much harder than off one foot (like Terrence Ross did in the battle round). Trust me, I've tried both several times on my NERF hoop.
1m18s: Barnes did the exact same dunk that nobody noticed 20 seconds earlier, and still hasn't realized that his teammates have moved on to bigger, better things.
1m25s: In the warmup, McLemore was shown shooting outside jump-shots. I wasn't expecting him to actually use it in the dunk contest though. A fitting conclusion to a round of utter chaos.
42s: A nice lefty 360-pump by Lillard (probably should have won this battle) which was marred by the fact that the crowd and Lillard himself barely reacted. There was really no energy whatsoever in the building. Watch any dunk contest pre-2009 and the crowd is going nuts the entire time.
0-13s: Would it kill Nick Cannon at least pretend that he's excited to be there? He looks like he just wants to go home after a long night, kind of how Harrison Barnes is about to feel.

1m43s: Barnes repeated his first dunk from the freestyle round, concluding one of the worst dunk contest performances in recent memory, one that included a layup, a windmill from the right, a windmill from the left, a two-handed windmill from the right, and a two-handed windmill from the left. After the event, Barnes tweeted, "Not bad for a first time... Ok not my finest hour but it's my best dunk contest EVER. Thanks for supporting."
In his honor, the five worst dunk contest performances of all-time (we'll give Barnes a pass and say that he got confused and disoriented by the new format):
Honorable Mention) Tim Perry - used the vast majority of his 90 seconds dribbling around the court aimlessly and unenthusiastically.
5) Antonio Davis - an otherwise mediocre performance made laughable by the fact that he bounced the ball into the crowd for no apparent reason with 1:06 on the clock, and bailed on his freestyle round with 40 seconds remaining.
4) Darrell Armstrong - got the crowd on its feet with an impressive opening jam for a little guy, then proceeded to miss dunk after dunk before finally going Harrison Barnes on everyone and just laying it in.
2) Tony Dumas - only contestant in dunk contest history to not make a single dunk.
1) Larry Hughes – missed his first six attempts, and then, in Harrison Barnes style, the camera didn't even catch his only made dunk of the night.

1m44s: Kenny Smith said that Barnes is better suited as an in-game dunker. Got me thinking... what if we had a Posterization Contest in which the league's most ferocious dunkers, such as Blake Griffin (of course), Taj Gibson, Paul Millsap, Deandre Jordan, and Quincy Acy (check out this dunk, this dunk, and this dunk), go in and try to dunk over each other? It's just taking the most exciting moment of an NBA game and making an event centered around it.
2m34s: Now that someone told Dr. J how to use his tablet during the commercial break, Charles Barkley remains the only entertaining aspect of this dunk contest. "You think animation's gonna make that a winner?" is what he said regarding the fact that NBA 2K14 was downloading Barnes's most recent dunk into the video game.
3m7s: Don't forget that Paul George got robbed in the 2012 dunk contest. He jumped over 7'2'' Roy Hibbert for goodness sakes!

3m59: George completed one of many impressive dunks on the night that were underappreciated due to lack of energy from everyone involved. When Nick Cannon introduced the judges when it was time to vote on the winner of the battle, he said, "These decisions aren't getting any easier!" Two-handed windmill vs. 360 between-the-legs? I would beg to differ.
11s: Kevin Harlan commented that "Ben McLemore is off the course." Yes, this event is as boring as watching golf, but basketball is still played on a court, not a course.
40s: This year was supposed to "bring back" the dunk contest, not permenantly destroy it, correct? Okay, just checking.
1m10s: At this point, McLemore probably was probably wishing he had gone with the 720 he hinted at earlier in the week.
2m45s: What on earth is James Harden wearing? Time to crank out another top five list, this one for worst dunk contes toutfits of all-time:
5) James Harden (2014)

4) Jermaine O'Neal (2004) - Not buying the tan on tan combination, nor the jacket that's at least five sizes too big.
3) Blake Griffin, Kevin Durant, Russell Westbrook (2013) – Why did Westbrook's mom buy little Russell a shirt for kindergarteners?
2) Patrick Ewing (1996) - only for the missed opportunity… he could have worn just the vest with no undershirt a la Aladdin. What a shame.
1) Carmelo Anthony (2013) - Just… no.
3m59s: Incredible dunk by wall, and easily the best of the night, because he pumped it down after grabbing the ball, and then brought it back up with such speed. But the dance was equally impressive, and a perfect segue into the top four post-dunk reactions of all-time:
4) John Wall (2014)
3) Kenny Smith (2006) – I don't care, what you say. Kenny Smith came in there, and put on a show!
2) Shaq (2000, 2006) – Ladies and gentlemen, the contrasting hats of Shaquille O'Neal!
1) Kevin Garnett (2000, 2013) - First the lean-back and scowl while holding an antique video camera, then the sour-lemonface while wearing a patriotic scarf and holding a baby? Both equally tremendousperformances.
4m: Back to this year. Magic Johnson proclaimed that John Wall "brought back the dunk contest." One good dunk does not a dunk contest bring back. And I honestly don't think the dunk contest needed bringing back, because the 2013 event wasn't that bad! Terrence Ross had four really solid dunks to get the win, and, by my count, we saw eight dunks we'd never seen before (compared to three this year). The default format worked with Jordan vs. Dominique, it worked with Vince Carter, and it worked with Nate Robinson. Even the Blake Griffin vs. Javale McGee dunk contest three years ago was wildly entertaining. That format works. There will be some bad years, for whatever reasons, but whenever the NBA has tried to change it up, it has always been a mess. The 6-10 scoring system sparks debates and arguments, while also providing something concrete with which to determine a winner, and having a showdown in the finals between the two top guys is dramatic. It's just about getting good contestants and hanging tight through the bad years. 
But the best idea I've heard on how to fix the dunk contest came from Pardon the Interruption's Mike Wilbon, who suggested simply taking away the dunk contest for a few years to make people yearn it and get excited about it. This has worked before, when the NBA cancelled the dunk contest in 1998 and 1999, and the 2000 contest was easily the greatest ever. The dunk contest is tired right now, and it needs a rest. Give the players time to think up some creative dunks, and then bring it back once everyone misses it.

Please like my facebook page and follow me on twitter (right sidebar).