Backcourt:
Kyrie Irving, Cleveland Cavaliers should replace Rajon Rondo, Boston Celtics
In terms of pure talent, Irving is probably a top-10 player in the NBA (24 points, 6 assists, 4 assists per game) while Rondo still can't shoot an open 18-footer. In terms of entertainment, even though Rondo gives us those "Did he just do that!" moments like these every once and a while, Kyrie Irving is becoming the most fun offensive player in the NBA to watch with highlight plays of his own.
And please don't give me any crap about Irving playing on the second worst team in the league because Rondo's playing with two hall-of-famers in Kevin Garnett and Paul Pierce and can't even get his team more than a game above .500. Meanwhile, the Cavaliers' four starters besides Kyrie Irving (an intimidating bunch featuring Alonzo Gee, C.J. Miles, Tristan Thompson and Tyler Zeller) are shooting an atrocious 42% from the floor between them and averaging a putrid 9.5 assists plus steals plus blocks COMINED (that's not a typo, and that has to be some sort of record). Also, with Irving on the bench, the Cavaliers are scoring only 94.3 points per 100 possessions, a number that is worse than the Charlotte Bobcats by a mile and easily worse than that of every other team in the NBA.
And also don't give me any crap about Irving not being able to play defense, because how was Rondo's defense last night when Kyrie Irving dropped 40 points on him? 
Dwyane Wade, Miami Heat
After a sluggish start to the season, Wade is back to playing just as well, if not better than last season, shooting career high percentages from the field and from behind the three-point arc.
Frontcourt:
Lebron James, Miami Heat
Nobody realizes that Lebron is having the best season of his career! His career high numbers in rebounds (8.1 per game), field goal percentage (55%), and three-point percentage (40%) are scary good. The MVP voters are going to predictably give the award to Durant because it's "his turn" and because they're tired of giving it to Lebron every year, but since James won it last year, there's no reason they shouldn't give it to him this season when he's playing even better. The three-headed monster that the Miami Heat were two seasons ago is now Lebron James putting the team on his back. He's regularly had to single-handedly take over games for a team that is has a worse scoring differential than the Toronto Raptors when he's on the bench.
Carmelo Anthony, New York Knicks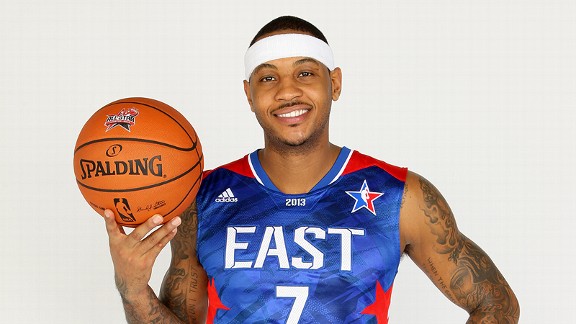 Yes, he has those nights when he scores 25 points on 35 shots, but that's only in games when the Knicks spend the first 15 seconds of every shot-clock trying to get Anthony a post-up from the three-point line. When New York actually works him into the offense by having him come off of Tyson Chandler screens for elbow jumpers or by having him run a pick-and-roll with Amare Stoudemire, Carmelo is much more efficient with his shots.
Recently, however, the Knicks have been reverting back to their ways from last year – everyone stand around and watch Melo – which is why, in January, Anthony is taking an absurd 26 shots and eight threes per game as well as shooting only 41.7% from the field. Of course the disastrous Camby-Chandler-Brewer-Kidd starting lineup that Mike Woodson used for a couple weeks didn't help (was he even trying to crack 70 points in those games?), but the Knicks need to get back to moving without the ball if they want to get Carmelo back in a groove.
Joakim Noah, Chicago Bulls should replace Kevin Garnett, Boston Celtics
Garnett is only a slightly above average offensive big-man at this point (currently 17th among big men in scoring), is not the defensive presence inside that he once was (currently 60th in the league in blocked shots and 36th in rebounding), and is too old to stay on the court for more than 29 minutes per game.
As for Garnett's replacement, a strong case can be made for New York's Tyson Chandler, but Noah is a much more complete player. He has assumed an increased role in Chicago's offense due to the absence of Derrick Rose (averaging career highs in shot attempts and made field goals), and the Bulls run many of their offensive sets through Noah in the high post (leading all centers in assists). Additionally, with the loss of Omer Asik in the offseason, Noah is now Chicago's defensive anchor, currently at fifth in the league in blocks plus steals per game, and the Bulls hold opponents to 97.3 points per 100 possessions with Noah on the court, a better mark than all but two teams. I know the sight of Joakim Noah and his hair taking the opening tip of an All-Star game will take some getting used to, but this decision should have been a no-brainer for the fans. 
Check out my picks for the Western Conference starting All-Stars!