New York Knicks: C
The Knicks traded Steve Novak and a 2016 first-round draft pick for the Raptors' Andrea Bargnani, winner of the 2013 Ugliest Shot Chart Award (although Michael Kidd-Gilchirst gave him a run for his money). (1) Toronto should pay New York to do them the favor of taking on Bargnani's $10.75 million salary, (2) Bargnani doesn't fit with the Knicks' roster in the slightest, as described a few paragraphs below, (3) Bargnani, brought in to hit threes, has shot 32% from beyond the arc over the last three years… and if he can't hit threes, then what is he good for? He couldn't defend a penguin, he can't comb hair, and, last season, he was 58th in rebounding rate among the 58 NBA players 6'11'' or taller, (4) That first-round draft pick is unprotected, and a pick three years from now could be a very good one, considering the Knicks' age as well as the free-agents they could lose.
Besides drafting Jordan Hill with the eighth pick, Mike Bibby backing down people from half court, signing Jared Jeffries the first time, signing Jared Jeffries the second time, swapping Trevor Ariza for a washed-up Steve Francis, the year Eddy Curry was their best player, trading for Cuttino Mobley after he just had heart surgery, Isaiah Thomas, Tim Thomas, Kurt Thomas, trading David Lee for Anthony Randolph, Jeff Van Gundy hanging onto Alonzo Mourning's leg, and Anthony Carter dribbling up the court like a gazelle as their first option off the bench, this Bargnani trade is easily the stupidest thing the New York Knicks have done in the last ten years.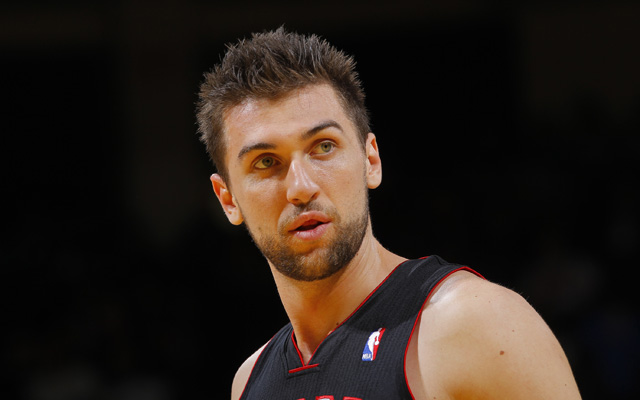 But the Knicks did re-sign J.R. Smith (who led the team in minutes last season) to a relatively cheap contract of $25 million over four years. Love or hate him, the Knicks need Smith to create offense after they lost one of my favorites, Chris Copeland (an obscenely rich man's Bargnani). By picking up free-agent Metta World Peace and re-signing veterans Pablo Prigioni and Kenyon Martin, the Knicks should have no problem with depth, as long as they stay healthy.
But what worries me is their roster's flexibility, especially up front. Neither of their centers (Tyson Chandler and Martin) shoot outside of five feet, and neither of their power forwards (Amare Stoudemire and Bargnani) can guard anyone. Also, none of their five big men (those four along with Carmelo Anthony) played more than 67 games last season, and all have experienced ongoing injury problems, so, once again, health will play a factor (yet another reason why I hated the Bargnani trade… at least you know Novak is staying healthy).
Where does Bargnani fit in? If he starts, Anthony would no longer be able to play power forward, where he excelled last season. If Bargnani comes off the bench, World Peace (still having trouble deciding between Metta, World Peace, Peace, MWP, Metta Peace, Artest, or just avoiding the name entirely) would be forced to into starting lineup that would have very little scoring besides Carmelo, and the second unit would allow 150 points a game.
As long as Melo is among the leaders in scoring next season and their big men stay healthy, the Knicks will be a fringe contender this season. The real problem will arise when Anthony becomes a free-agent next summer and asks for big money, while, at the same time, cap-space will be limited if Amare opts into the final year of his contract and becomes the highest-paid player in the league.
I'm sorry, I need a minute to violently bang my head against the wall until I forget that, three years ago, the Knicks chose to pay Stoudemire $100 million over five years rather than David Lee $80 million over six years…
A little more…
Okay, I think I'm good.
Indiana Pacers: A
They snatched the Knicks' Copeland and former-Net C.J. Watson (both shot above 41% from beyond the arc last year), adding much needed three point shooting to what was a horrible outside-shooting bench (Sam Young and Gerald Green hit threes at a 31% clip, and Ian Mahinmi and Tyler Hansbrough couldn't stretch the floor at all).
Miami Heat: B+
Re-signing Chris Andersen was of the utmost importance for them, after going 54-8 with Birdman in the lineup, and 28-15 without him last year. He is the only shot-blocker on the team whatsoever, besides Joel Anthony, who scored less frequently last season than any player who played in at least 50 games not named Andris Biedrins. Here's how a conversation probably went down between LeBron James and Andersen:
Birdman: Hey LeBron, what are you doing with all your free time?
LeBron: Washing my headbands
Birdman: Me too!
LeBron: You up to anything else in the offseason?
Birdman: I don't know, maybe I should I get a new tattoo. It's been three weeks since I got my last one, and I'm close to breaking 100.
LeBron: Do you have any space left?
Birdman: To make room, I would have to get a tattoo removed
LeBron: Which one?
Birdman: The one on the arm
LeBron: Which one on the arm?
Birdman: Never mind… Who has the championship trophy right now?
LeBron: I have it!
Birdman: Wait – the Google Calendar that Dwyane set up says Chris [Bosh] has it this week
LeBron: Yea, but he scored 0 points in Game 7, and I need somewhere to put my guacamole dip.
Birdman: Can I have the trophy?
LeBron: No
Birdman: How about if I re-sign with Miami for $1.7 million?
LeBron: But that's a good deal for you!
Birdman: Zaza Pachulia just got a $15 million contract from Milwaukee, you really think I can't get more money somewhere else?
LeBron: Fine, come pick up the trophy tomorrow
Re-signing Andersen for peanuts, as well as Ray Allen, will help keep the core of the champions' second unit intact. With LeBron and the slowly-but-surely-decomposing Dwyane Wade having played 184 and 163 games, respectively, over the past 20 months (plus Olympics and preseason), the Heat will rely on their bench more than last year, which is why amnestying Mike "I get hot for five games a season" Miller may hurt them.
Additionally, they needed to pick up a good post-defender after their starting center dinosaur, Chris Bosh, received an ass-kicking from Roy Hibbert and Tim Duncan in back-to-back series. The situation could still be remedied if they win the Greg Oden sweepstakes (likely), and Oden doesn't injure himself on the plane to Miami (unlikely).
By the way, I'm not resting until ESPN does a "The Decision" show for Greg Oden, with an interview and everything.
Detroit Pistons: B
The knock on Detroit was that they had a weak backcourt, so they acquired Brandon Jennings via trade, giving up only one rotation player, Brandon Knight, in the process. Jennings joins Rodney Stuckey, Chauncey Billups, Will Bynum, and rookie Kentavious Caldwell-Pope in a solid group of guards.
After signing Josh Smith to a reasonable four-year, $54 million deal, the Pistons can team him with Andre Drummond, both of whom averaged more than three blocks plus steals per 36 minutes last season. Neither excels outside the paint by any standards, which could create floor-spacing issues, but second-year forward Kyle Singler can play alongside them and provide above-average shooting. Additionally, underrated, 23-year-old big man Greg Monroe (averaged 16 points, nearly 10 rebounds, and 3.5 assists per game in his 2013 campaign) will complement the athleticism of Smith and Drummond with his inability to get off the ground.
This team is like one of those annoying jigsaw puzzles where you can get the edges, but you eventually just try jam some pieces together that don't actually fit. Regardless of whether or not the Pistons' players will mesh perfectly, there's too much talent there for Detroit to not be a playoff team.
Cleveland Cavaliers: B+
Snagging backup point guard Jarrett Jack for $25 million over four years was critical due to Kyrie Irving's injury issues. Signing Andrew Bynum was curious, considering that starting center Anderson Varejao is injury prone as well. There's no evidence suggesting that Bynum can stay on the court (or the bowling alley), and he wasn't even able to work out for teams this offseason after sitting out all of last year. At this point, I wouldn't be surprised if he sustained an injury playing croquet.
The Cavs' selection of power forward Anthony Bennett with the first overall draft pick was odd because they're already developing Tristan Thompson at the same position. In fact, they now have two quality point guards, two quality power forwards, and two quality centers, yet only one competent shooting guard (Dion Waiters), and zero competent small forwards. Nonetheless, Jack and Irving could both play the 2 if needed, and the vacancy at small forward may attract LeBron James when he becomes a free-agent next summer, if playing with the Irving-Waiters-Bennett-Bynum young nucleus isn't attractive enough.
Atlanta Hawks: C-
The Hawks unsuccessfully pursued Dwight Howard, despite the fact that they have Al Horford, who is 85% as good and getting paid 60% as much.
After striking-out looking on the big free-agents, the Hawks are doing literally everything short of having their owner walk around the arena holding up a huge poster with the word "MEDIOCRITY" written on it in all-caps. Yes, they signed Paul Millsap for $19 million over two years, but for a guy who makes little impact defensively and whose offensive numbers aren't nearly as impressive as everyone thinks (seriously, look them up), that's pretty much what Millsap ought to be paid, right? Marc Gasol, Joakim Noah, Kevin Garnett, Al Horford, Roy Hibbert, David Lee, David West, and Tim Duncan all make between $12-15 million a year, so Millsap deserves a couple million fewer per year than those guys.
Atlanta resigned Jeff Teague and Kyle Korver to fairly cheap deals, maintaining cap room to go after a marquee free-agent next summer, but if they don't hit it out of the park, the Hawks will be looking at several more years of first-round exits as a #6 or #7 seed.
Brooklyn Nets: A-
They brainwashed the Celtics into giving them Kevin Garnett, Paul Pierce, and Jason Terry for several bench players and three future first-round draft picks, while at the same time taking on the enormous contracts of Gerald "I'm open for a reason" Wallace and Kris Humphries. Kudos to the Nets for maintaining a strong, deep bench. They re-signed Andray Blatche to an unbelievably cheap contract, didn't give up Reggie Evans in the trade, and owner Mikhail Prokorov, using an under-the-table, Russian deal, convinced Andrei Kirilenko to come to Brooklyn for nearly nothing.
Quick sidenote: Blatche's contract with the Nets is not as unbelievable as the fact that the Washington Wizards still owe Blatche more than $16 million over the next two years on a contract extension that the Wizards amnestied before it even started!
The Nets' caveat is that they have a two-year window to win a title, and that's it, due to the draft picks they gave away. Furthermore, they'll have to compete with the Heat for at least the first year, and may lose Paul Pierce to free-agency for the second. I have trouble seeing their older players, or Brook Lopez, running up and down with Miami for a seven-game series, but they could have as many as five All-Stars, and will be difficult to stop offensively. After all, a two-year window is bigger than no window.
Boston Celtics: INCOMPLETE
I feel that Boston could have struck a better deal for Garnett and Pierce. Cleveland might have given them the 1st, and 19th draft picks this year, a first round pick in 2015, and Dion Waiters. That way, the Celtics could have avoided taking on two staggeringly large contracts.
But the main problem with Boston's situation is that they're bad, but not bottoming out to the point of Philadelphia, Utah, Orlando, or Phoenix, so they have little chance at a top draft pick. In the weaker of the two conferences, Jeff Green, Avery Bradley, Gerald Wallace, half a season of Rajon Rondo, and rookie Kelly Olynyk (who, when it's all said and done, could break Chris Kaman's record for most appearances on the All-NBA "I Need to Go to the Barber Shop" Team), won't be quite as bad as they want to be.
I'd try to shop Rondo and Wallace to a playoff team for multiple draft picks. The Celtics already possess nine first round picks through 2018, but getting two more and the outside chance at winning the draft lottery this season would be superior.
Please follow me on twitter @LevAkabas by clicking the button on the sidebar!